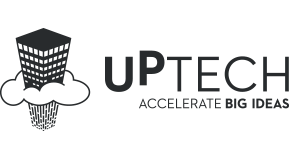 Connect with program leaders and explore case studies, product offerings, and solution overviews on the Venture Smarter Portal.
Venture Smarter with UpTech
UpTech is a tech accelerator program for data-driven startups that are developing tech-enabled solutions and seeking equity funding.
UpTech, located in Covington, Kentucky, is part of Cincinnati's entrepreneurial ecosystem. We look for startups who will take advantage of our program's funding offer, educational program, and one-on-one mentoring and support to grow their tech business into a profitable venture. We specialize in catalyzing community connections that strategically align our portfolio with the network and resources that will rapidly accelerate their businesses.

Ranked as one of the country's most affordable cities, Cincinnati is home to major research universities and is quickly becoming a hub for startups. On top of these rankings and a vibrant social scene, Cincinnati and Northern Kentucky's major corporate players, including Procter & Gamble, Macy's, Duke Energy, Kroger, and others, are strong supporters of our startup community.

We are confident that entrepreneurs will quickly learn that our region's talent base, the financial and educational support offered by UpTech, urban ambiance, and reasonable cost of living found in Cincinnati make it a winning choice for the place to start and grow a business.
Funding and Financing - recent news
Trending Solution Providers